Sandstone Patio Contractors Kildare
We provide free estimates for installing Indian sandstone patios in Kildare. Our patio specialists offer an unbeatable service with a range of design options, colours and laying patterns to choose from.
GET A FREE ESTIMATE >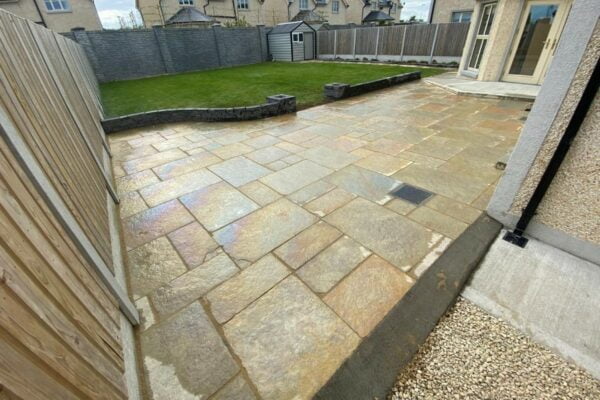 100%
SATISFACTION
GUARANTEED
Indian Sandstone Patios Kildare
Indian sandstone installers in Kildare. We source only the best quality sandstone to ensure a long-lasting and durable sandstone patio installation.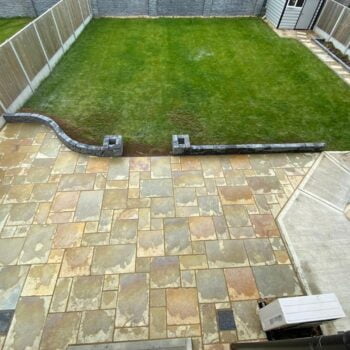 If you want an Indian Sandstone patio in Kildare, look no further than Orchard Driveways and Patios. We're here to help you create a beautiful patio and garden area using Indian Sandstone. We offer various options for Indian Sandstone, including multiple laying sizes, various colours, and multiple styles to suit your tastes.
By choosing Indian Sandstone for your patio, you'll have a long-lasting and durable outdoor space. Since it's a natural stone, the colours won't fade or wear down easily. With only minimal maintenance, you can bring the colours back up and keep your patio looking fresh.
Creating a strong foundation, maintaining proper levels, and using the right bonding materials are crucial for a long-lasting natural stone patio or garden. By working with professionals like Orchard Driveways and Patios, you can rest assured that your Indian Sandstone Patio in Kildare will be laid to industry-approved standards.
Colour options include:
Grey
Rainbow
Mint Green
Kandla Grey
Rainbow
Sawn Mint
View the range of services our patio contractors provide in Kildare, including patio paving and porcelain tiled patios in Kildare.
Call us on 045 832853 to schedule a FREE, no-obligation quote for installing Indian sandstone in Kildare. We're here to help make your dream patio a reality!