Resin Installers Kildare
Get a free estimate for the installation of a new resin driveway in Kildare. Our resin contractors can lay resin bound, resin bonded and UV resin surfacing at an unbeatable price on driveways, patios and gardens in Kildare.
GET A FREE ESTIMATE >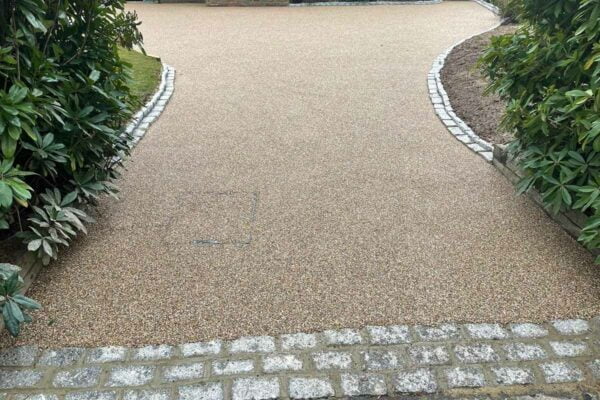 100%
SATISFACTION
GUARANTEED
Resin Installers in Kildare
Our resin driveway contractors in Kildare provide unbeatable value for installing resin-bound surfacing on driveways, patios and gardens. Wide range of colour and design options available to choose from.
Resin-bound solutions have rapidly become excellent for surfacing driveways, patios, and paths. They are made from a combination of natural stones that provide a durable and long-lasting surface which adds beauty to any application.
In addition to its anti-slip properties, it requires minimal maintenance to keep it looking clean and fresh. Resin driveway surfacing is created by mixing natural stones and coating them with a clear UV-resistant resin.
To ensure every stone is fully coated with resin, the mixture undergoes a force-action mix process before being poured onto the driveway or area you wish to cover. It is then hand-trowelled to create a smooth, seamless surface that doesn't have loose stones.
Resin-bound surfaces require little maintenance and can be restored to a brand-new look with a simple jet wash. We only use industry-standard bonding materials and natural stone aggregate for your resin driveway, pathway, or patio.
Since natural products always have a bit of variety in stone colour, we can show you samples during the quotation stage to help you understand the finished look. It's important to see samples so you can make an informed decision.
For other surfacing options for replacing your driveway in Kildare, view the services provided by our paving contractors in Kildare and the services provided by our tarmac contractors in Kildare.
If you'd like to know more or see some of our resin-bound installation work in Kildare, don't hesitate to call us on 045 832853 for a free estimate. Our friendly team is always eager to hear from you.