Patio Contractors Sandyford
Get a free estimate from Orchard Driveways for installing a new patio in Sandyford. Our patio services include laying patio paving, slabbing, porcelain, limestone, sandstone and more.
GET A FREE ESTIMATE >
100%
SATISFACTION
GUARANTEED
Patio Layers Sandyford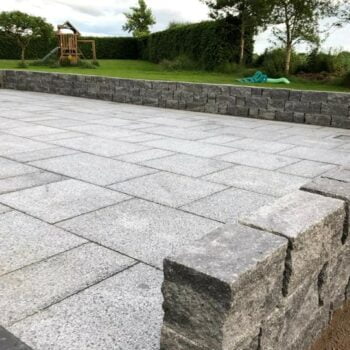 We provide unbeatable value for installing new patios throughout Sandyford, with options on patio paving, porcelain tiling, granite patios, limestone patios and more to choose from.
Our 5-year written guarantee covers all the work completed by our installers, with each patio project, carried out to the highest standard. We give 100% attention to every project, whether big or small, and only use top-quality products for patio and garden areas to ensure a vibrant and durable finish.
Our patio services in Dublin include new patios, porcelain, granite, sandstone, limestone, and concrete slabbing. We aim for 100% customer satisfaction, from design to installation.
For other services, see the services provided by our paving contractors in Sandyford and new driveway installation services in Sandyford.
So why not Orchard Driveways and Patios on 01 514 3059 for a free, no-obligation estimate from our patio contractors in Sandyford? We are always happy to discuss your project and offer expert advice to help you achieve the perfect patio for your home.
We can create custom and bespoke patios using not only sandstone, limestone or porcelain but also provide further options that includes new lawn installations, wooden fencing and erecting decorative garden walling in Sandyford.
Our patio installation options include the following:
Patio paving
Concrete slabbing
Flagstones
Porcelain
Granite
Sandstone
Limestone
Call us today for a free visit; We can give you options on standard flagstone installations using products from Kilsaran and Tobermore to laying natural stone products like slate, granite or sandstone in your patio.
We can help you pick a style and a colour for your patio, along with a fully itemised quotation highlighting the installation, the cost and the estimated time frame for your patio installation. Call our patio contractors in Sandyford on 01 514 3059 for a free estimate today.