Wooden Fencing and PVC Fence Installers
At Orchard Driveways and Patios, we take great pride in providing top-quality fencing services in Maynooth through our team of expert fencing contractors. Our friendly and knowledgeable team ensures that you receive the best possible advice and designs to achieve your ideal fencing solution.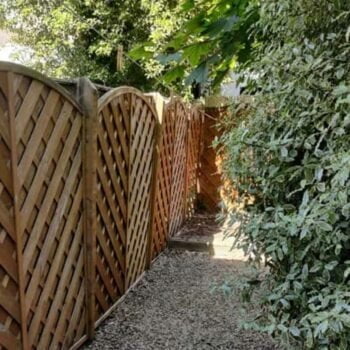 As one of the leading fencing companies in Maynooth, we have a team of trusted local installers who can provide and fit all types of timber fencing, including fence posts, gates, trellis panels, and more. By choosing us, you can be assured of excellent workmanship and the highest standard of service.
Adding well-erected garden fencing to your property can significantly improve its appearance, privacy, and security. Wooden fencing, in particular, is an excellent way to achieve this. Whether you need new wooden fences or replacement timber fencing, our team in Maynooth provides a supply and installation service that is second to none.
We offer free site surveys and quotes with no obligation to help you make an informed decision for your property. We highly recommend using pressure-treated timber fencing as it is long-lasting, requires no additional treatment, and has a natural appearance that can withstand the test of time.
In addition, wooden fences can be stained or painted to match your property's existing colour theme and complement its overall aesthetic. If you're looking for low-maintenance fencing, our PVC fencing options have become increasingly popular in recent years.
Some of our other services include driveway paving in Maynooth, roll-on turf lawns in Maynooth and artificial grass installations.
So why not get in touch with Orchard Driveways and Patios on 045 832853 and let us help you achieve the perfect fencing solution for your property in Maynooth?